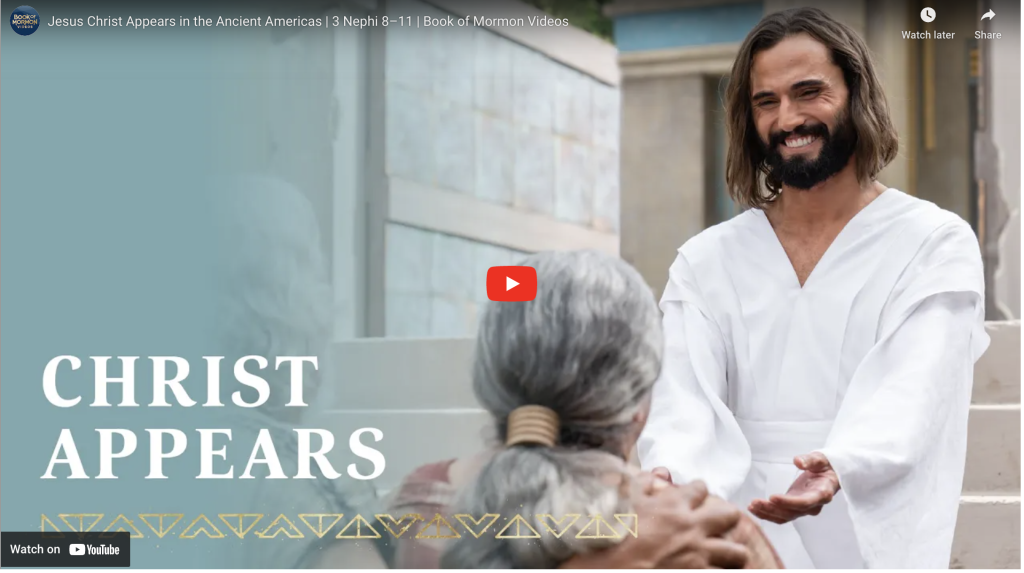 The first in a new series of nine "Book of Mormon Videos" showing how Jesus Christ ministered in the ancient Americas is available.
In the closing session of the October 2022 general conference of The Church of Jesus Christ of Latter-day Saints, President Russell M. Nelson shared a clip from the videos depicting the Savior's appearance to the people of Nephi in 3 Nephi 11.
The following is the release schedule for the other 3 Nephi videos:
October 7: "Jesus Christ Teaches and Gives Power to Baptize" | 3 Nephi 11–12
October 14: "Jesus Christ Teaches How to Live the Higher Law" | 3 Nephi 12–14
October 21: "Jesus Christ Testifies of One Fold and One Shepherd" | 3 Nephi 15–16
October 28: "Jesus Christ and Angels Minister with Compassion" | 3 Nephi 17
November 4: "Jesus Christ Introduces the Sacrament" | 3 Nephi 18
November 11: "The Disciples Minister and Jesus Christ Prays for the People" | 3 Nephi 19
November 18: "Jesus Christ Explains How He Will Gather Israel" | 3 Nephi 20–23
November 25: "Jesus Christ Declares the Name of His Church and His Doctrine" | 3 Nephi 27
Videos from the series, that started in 2019, have been viewed nearly 53 million times. These videos focus on universal themes of family, faith and sacrifice through some of the book's most beloved stories.
LINKS TO THE OTHER VIDEOS OF THE SERIES in English
Book of Mormon Videos (#23): Alma Counsels His Sons, Alma 36–42
Book of Mormon Videos (#22): Alma and Amulek Teach about Faith in Jesus Christ, Alma 31–34
Book of Mormon Videos (#21): Ammon Serves and Teaches King Lamoni, Alma 17–19
Book of Mormon Videos (#20): Alma and Amulek Are Delivered by the Power of God, Alma 8–15
Book of Mormon Videos (#19): Alma Preaches the Word of God, Alma 4–7
Book of Mormon Videos (#18): Alma the Younger Is Converted unto the Lord, Mosiah 27; Alma 36
Book of Mormon Videos (#17): Abinadi Testifies of Jesus Christ, Mosiah 11-18
Book of Mormon Videos (#16): King Benjamin Addresses His People, Mosiah 1-5
Book of Mormon Videos (#15): Enos Prays Mightily, Enos 1
Book of Mormon Videos (#14): Sherem Denies Christ, Jacob 7
Book of Mormon Videos (#13): Jacob Teaches about Pride and Chastity, Jacob 2–3
Book of Mormon Videos (#12): Nephi Records His Final Testimony, 2 Nephi 33
Book of Mormon Videos (#10): Jacob Teaches of the Atonement of Jesus Christ, 2 Nephi 6–10
Book of Mormon Videos (#9): The Nephites Separate from the Lamanites, 2 Nephi 5
Book of Mormon Videos (#8): Lehi Gives His Family a Final Blessing, 2 Nephi 1–4
Watch the Seventh Video in the Book of Mormon Series: Lehi's Family Sails to the Promised Land (1 Nephi 18)
Watch the sixth episode: The Lord Commands Nephi to Build a Ship (1 Nephi
Watch the fifth episode: THE LORD GUIDES LEHI'S JOURNEY (1 NEPHI 16)
Watch the fourth episode: LEHI SEES A VISION OF THE TREE OF LIFE (1 NEPHI 8)
Watch the first three episodes of the Book of Mormon Videos here
LEARN MORE ABOUT THE PURPOSE OF THE BOOK OF MORMON VIDEOS
Watch the New Trailer for Season 3 of the Book of Mormon Videos
Book of Mormon Videos to be Released; Watch Trailer for 1 Nephi
Book of Mormon Videos Official Trailer 2 Nephi–Enos
Behind-the-Scenes Look at Book of Mormon Videos
Videos of the Book of Mormon In other languages