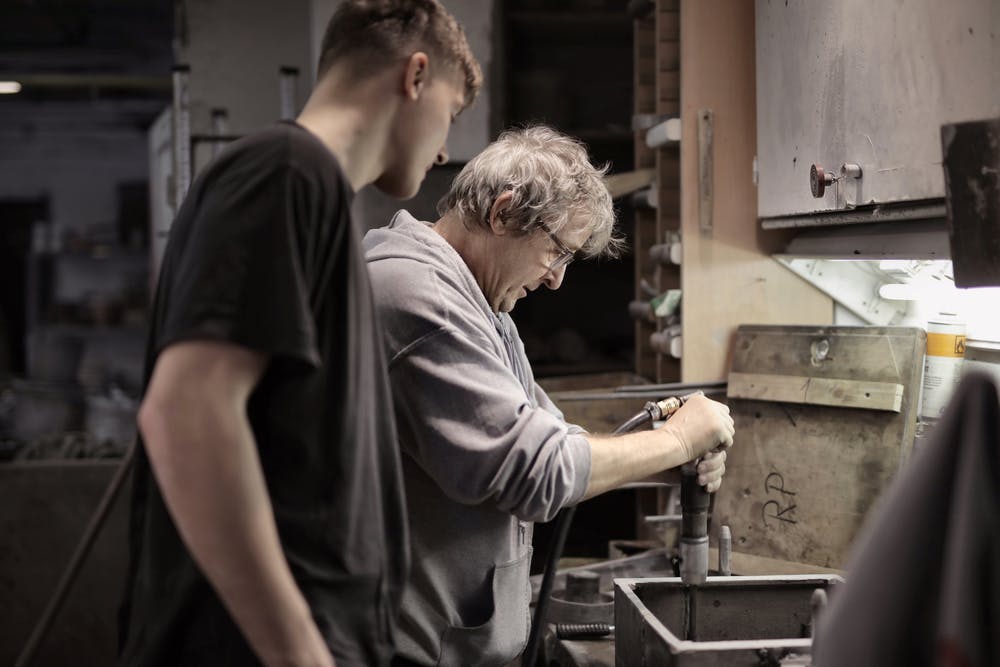 The last of the 21 Irrefutable Laws of Leadership by John Maxwell is the Law of Legacy.
According to John Maxwell, the most important question you can ask yourself as a leader might surprise you and is: "What do you want people to say at your funeral?"
As Maxwell says, "a leader's lasting value is measured by succession." The accurate measure of your legacy lies in how well you influence the people you leave behind. Your aim should always be to make an intentional impact on future generations of leaders at your organization. Here's why what you leave behind is just as important as what you accomplish in your organization.
GOIZUETA'S LEGACY
John Maxwell introduces the Law of Legacy with the story of the untimely death of Roberto Goizueta, CEO of Coca-Cola:
In 1997, one of the finest business leaders in the world died. His name was Roberto Goizueta, and he was the chairman and chief executive of the Coca-Cola Company… Making Coca-Cola the best company in the world was Goizueta's lifelong quest, one he was still pursuing diligently when he suddenly, unexpectedly died. Companies that lose a CEO often go into turmoil, especially if his departure is due to an unexpected death, such as Goizueta's. Shortly before his death, Goizueta said in an interview with the Atlanta Journal-Constitution that retirement was "not on my radar screen. As long as I'm having the fun I'm having, as long as I have the energy necessary, as long as I'm not keeping people from their day in the sun, and as long as the board wants me to stay on, I will stay on." Just months after the interview, he was diagnosed with cancer. Six weeks later, he was dead.

THE LEGACY LEFT TO THE COMPANY BY GOIZUETA IS INCREDIBLE. WHEN HE TOOK OVER COCA-COLA IN 1981, THE COMPANY'S VALUE WAS $4 BILLION. UNDER GOIZUETA'S LEADERSHIP, IT ROSE TO $150 BILLION. THAT'S AN INCREASE IN VALUE OF MORE THAN 3,500 PERCENT! COCA-COLA BECAME THE SECOND MOST VALUABLE CORPORATION IN AMERICA,
But high stock value wasn't the most significant thing Goizueta gave to the Coca-Cola company. Instead it was the way he lived the Law of Legacy. When the CEO's death was announced, there was no panic among Coca-Cola stockholders. Paine Webber analyst Emanuel Goldman said that Goizueta "prepared the company for his not being there as well as any executive I've ever seen."
THE LAW OF THE LEGACY
The natural progression of leadership, according to Maxwell, is:
Achievement comes when you do great things by yourself
Success comes when you empower your employees to do great things for you
Significance comes from developing leaders to do great things with you
Legacy comes when you put leaders in a position to do great things without you
The great management guru Peter Drucker once said, "There is no success without a successor." In other words, lasting achievement is really only achieved if it continues after we're gone.
Our ability as leaders will not be measured only by what we do or what we build, but also by how well the people we invested in carried on after we are gone.
Just about anybody can make an organization look good for a moment —by launching a flashy new program or product, drawing crowds to a big event, or slashing the budget to boost the bottom line. But leaders who leave a legacy take a different approach. They lead with tomorrow as well as today in mind. They plan to keep leading as long as they are effective, yet they prepare his successor anyway. They always look out for the best interests of the organization and its stockholders. (John C. Maxwell)
Here are five simple yet actionable ideas for preparing your successor:
Accept the fact that you're not indispensable. The more you act like you are, the more likely you'll be trapped in your job and leave your organization unprepared for the future that will inevitably come. That's the glass half empty perspective on it. The glass half full point of view is that if you develop the next generation of leaders, you'll create more opportunities for yourself and the organization. Preparing strong leaders is how you leave a legacy that outlasts your time in your current leadership role.

Identify the handful of "A" players on your team that show the capacity to get results while building the relationships that make the results sustainable over the long run. Once you've identified some high potential candidates, take the next step and identify the experiences they'll need to be well rounded leaders at the next level.

Include those high potential leaders in conversations and meetings that will expose them to people and issues that they haven't had a lot of experience with in the past.

Stretch your succession candidates by giving them special project assignments or jobs that round out their experience base. If they've been the "inside" people previously, put them in roles that will expose them to external constituencies. If they've been more focused on the external aspects of the business, give them assignments that will build their operational muscles.

Coach them in their development by asking questions that help them debrief what they're learning from experience and help them game plan for what's coming up. If you don't have the time or inclination to coach them yourself, find someone either external or internal to the organization who is capable of playing that role. Whatever you do, don't just throw them into the deep end of the pool with no support. Your goal is to develop leaders, not to debilitate them. (Joe Nocera, Talking Business)
THE 21 IRREFUTABLE LAWS OF LEADERSHIP BY JOHN C. MAXWELL
The book is divided in 21 main chapters, one for each of the 21 leadership laws. Below are the links to the individual chapters.
ON AMAZON: The 21 Irrefutable Laws of Leadership