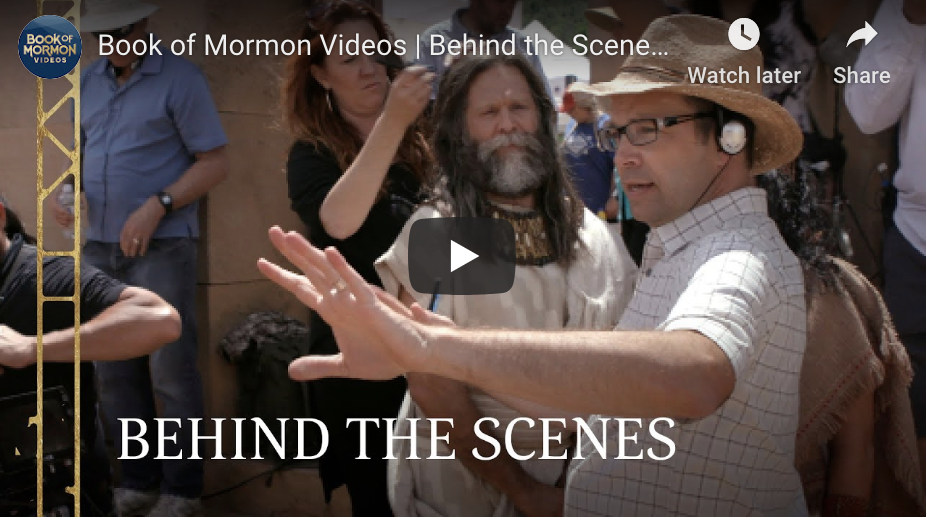 A behind-the-scenes look at the filming of the scenes from 2 Nephi – Enos. Cast and crew share insights about the production, its purpose, and what it means to them.
LINKS TO THE OTHER VIDEOS OF THE SERIES
Book of Mormon Videos (#8): Lehi Gives His Family a Final Blessing, 2 Nephi 1–4

Watch the Seventh Video in the Book of Mormon Series: Lehi's Family Sails to the Promised Land (1 Nephi 18)
Watch the sixth episode: The Lord Commands Nephi to Build a Ship (1 Nephi
Watch the fifth episode: THE LORD GUIDES LEHI'S JOURNEY (1 NEPHI 16)
Watch the fourth episode: LEHI SEES A VISION OF THE TREE OF LIFE (1 NEPHI 8)
Watch the first three episodes of the Book of Mormon Videos here
THE FOLLOWING IS THE RELEASE SCHEDULE FOR THE REST OF 2019:
November 15: The Nephites Separate from the Lamanites | 2 Nephi 5
November 22: Jacob Teaches of the Atonement of Jesus Christ | 2 Nephi 6–10
November 29: Nephi Teaches the Doctrine of Christ | 2 Nephi 31–32
December 6: Nephi Records His Final Testimony | 2 Nephi 33
December 13: Jacob Teaches about Pride and Chastity | Jacob 2–3
December 20: Sherem Denies Christ | Jacob 7
December 27: Enos Prays Mightily | Enos 1
VIDEOS THAT COVER MOSIAH THROUGH THE END OF THE BOOK OF MORMON WILL BE RELEASED IN 2020 AND 2021.
Learn more about the purpose of the Book of Mormon Videos: