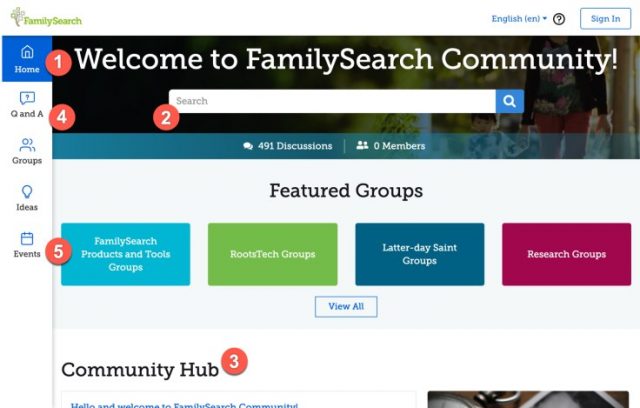 The FamilySearch Community is an online resource that helps people interested in family history connect with each other worldwide. In the community, you can learn research strategies, view genealogy events, join various groups that have the similar interests, and connect with specialized research experts.
Members of the FamilySearch Community can answer questions you may have—and you can help others by sharing what you know. Whether you have questions, need expert help, or want to connect with others who share your passion for family history, the FamilySearch Community is a great place to be.
The FamilySearch Community was recently updated with a new look, additional functionality, and navigation enhancements. Here is a short list of what is new:
Site navigation is now more visible and located on the left sidebar of the page.
Searching the community is easier because of the prominent search bar on the home page.
The Community Hub section announces changes and updates.
A questions and answers section can be found in the navigation. Each question is sorted into a category (similar to how the Help Center categorizes content) so you can find answers to your questions about specific topics.
A new Events section allows you to see upcoming events, send an RSVP, and even view recordings of some past events!
Notification settings have been added. You control the notifications you want to receive. Do you want an email when someone answers your question? You get to choose!
Frequently Asked Questions
Q. How do I get to the new community?
A. You can get to the new community by signing into FamilySearch.org, clicking the Help icon (a question mark in a circle), and selecting Community. Or you can click here.
Q. If I was a FamilySearch Community member before, will I be a member of the new community?
A. Yes! This update will not change your access to the community and the groups you participate in…
(Learn more about these updates in the article "FamilySearch Community Receives New Look and Improvements.")
FamilySearch inspires people everywhere to connect with their family—across generations
Free to All
The Church of Jesus Christ of Latter-day Saints provides FamilySearch free of charge to everyone, regardless of tradition, culture, or religious affiliation. Originally intended for Church members, FamilySearch resources help millions of people around the world discover their heritage and connect with family members.
What FamilySearch DoES
FamilySearch helps people discover their family's history through our website, mobile apps, and in-person help at over 5,000 local family history centers.
Other News About FamilySearch
More than 500,000 will Attend All-Virtual FamilySearch RootsTech Connect 2021
Presenters share family stories with record-breaking global audience RootsTech Connect 2021 is starting in a few hours…. More than 501,000 family history enthusiasts are participating in RootsTech Connect 2021, many for the very first time, making this the…
More Keynote Speakers Announced for FamilySearch RootsTech Connect
RootsTech Connect, hosted by FamilySearch, will be entirely online and completely free for the first time this year. Registration is open for what is considered the world's largest family celebration event.
FamilySearch Genealogy Website Is Now Available in 30 Languages
The free genealogy website FamilySearch.org has added 20 new languages since August, becoming the world's largest genealogical service available to anyone in 30 total languages.
FamilySearch Gerações: O Brasil Sediará a Maior Conferência em Genealogia do Mundo
Entre os dias 5 e 8 de novembro de 2020 acontecerá a versão brasileira da maior conferência de genealogia e história da família do mundo, a FamilySearch Gerações.
Brazil to Hold First Ever FamilySearch Gerações (Generations) Virtual Event
Similar to RootsTech based in the United States and ExpoGenealogía based in Mexico, FamilySearch Gerações will include keynote speakers, family history classes and activities. Sessions will be streamed live on FamilySearch Brazil's YouTube, Instagram and Facebook accounts.
Family History at FamilySearch: Map Where Your Ancestors Are From
Find out where your ancestors are from—and ultimately where you are from—using FamilySearch's new Where Am I From? activity.
FamilySearch RootsTech Connect Attracting Participants From 167 Countries
since registration opened for RootsTech Connect 2021 last month, more than 106,000 people from 167 countries have signed up for the virtual event. And 86% of them have never attended RootsTech before.
8 Billion Names Are Now Searchable on FamilySearch.org
FamilySearch, the world's largest genealogical service, has published its 8 billionth searchable name from its historical records collection.
Digitized Records of Mayflower Descendants Now Available on FamilySearch and AmericanAncestors.org
FamilySearch RootsTech Goes Virtual in 2021
FamilySearch has announced that RootsTech 2021 will be held in February as a free, virtual event.
FamilySearch Family History Blog Update – May 2020
A high-level recap of all of the fun, new content you might have missed on the FamilySearch blog in May 2020
Church News: How Brazil became a 'pioneer' for FamilySearch live social media events
Long before FamilySearch live social media events began in the United States during the COVID-19 pandemic, they were already successful in Brazil.
FamilySearch: Going Beyond Birth and Death Dates in Family Tree
Did you know there is a place on FamilySearch's Family Tree to record these stories and other details so others can enjoy them as well?
DNA, Video, Facebook Coming to FamilySearch
Elder Kevin S. Hamilton Executive Director of FamilySearch sits down and talks about the future of genealogy on the popular free family history site.
Family History Activities from FamilySearch
FamilySearch provides a number of simple activities for all ages that are designed to bridge the distance between loved ones. These activities can be done with those closest to us at home or through social media. You can find activities to enjoy at FamilySearch.org/discovery.